Products
Contact Us
The Contact: Tom Shen
Tel : +86-511-85081685
Phone : +86-13862448768
Address: NO. 8, FENGHUANGSHAN ROAD, PRIVATE DEVELOPMENT ZONE, ZHENJIANG, JIANGSU, CHINA
Email: manager@underpan.com
Website: www.underpan.com
Your Position: Home > Products > Undercarriage > rubber track undercarriage >
Costomization new rubber track undercarriage will fender
Product description
We customize every undercarriage according to your requirements and with attention to even the smallest details.
We can recommend and assemble the suitable motor & drive equipment as customers' request. We can design the whole undercarriage according to special requirement, such as measurements, carrying capacity, climbing etc. which facilitate the
customers' installation successfully.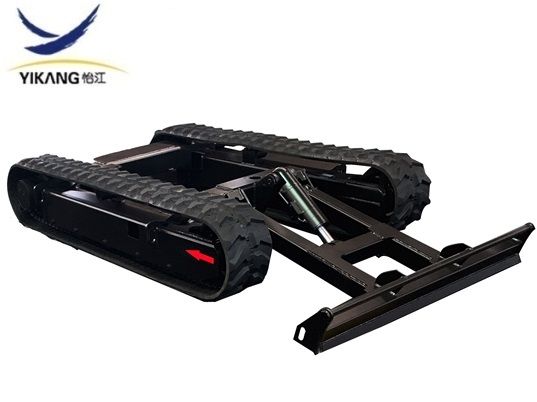 Costomization new rubber track undercarriage will fender
Standard specification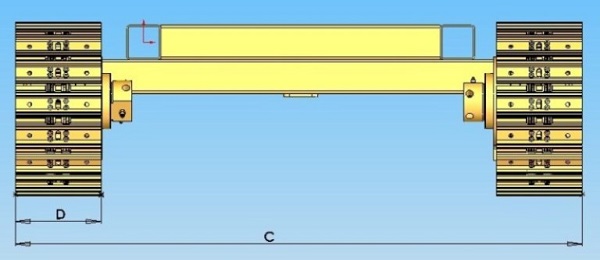 Technical parameters
Type
Parameters(mm)
Track Varieties
Bearing(Kg)
A
B
C
D
E
SJ050
1200
900
900
150
300
rubber track
500
SJ080
1240
940
900
180
300
rubber track
800
SJ100
1380
1080
1000
180
320
rubber track
1000
SJ150
1550
1240
1000
200
350
rubber track
1300-1500
SJ200
1850
1490
1300
250
400
rubber track
1500-2000
SJ250
1930
1570
1300
250
450
rubber track
2000-2500
SJ300A
2030
1500
1600
300
480
rubber track
3000-4000
SJ300B
1895
1500
1700
300
485
steel track
3000-4000
SJ400A
2166
1636
1750
300
520
rubber track
4000-5000
SJ400B
1990
1600
1800
300
530
steel track
4000-5000
SJ500A
2250
1720
1800
300
535
rubber track
5000-6000
SJ500B
2118
1591
1800
300
550
steel track
5000-6000
SJ700A
2812
2282
1850
350
580
rubber track
6000-7000
SJ700B
2795
2265
1800
350
600
steel track
6000-7000
SJ800A
2880
2350
1850
400
580
rubber track
7000-8000
SJ800B
2880
2350
1850
400
600
steel track
7000-8000
SJ1000A
3500
3202
2200
400
650
rubber track
9000-10000
SJ1000B
3500
3202
2200
400
670
steel track
9000-10000
SJ1500A
3800
3802
2200
500
700
rubber track
13000-15000
SJ1500B
3800
3802
2200
400
700
steel track
13000-15000
SJ2000B
3805
3300
2200
500
720
steel track
18000-20000
SJ2500B
4139
3400
2200
500
730
steel track
22000-25000
SJ3500B
4000
3280
2200
500
750
steel track
30000-40000
SJ4500B
4000
3300
2200
500
830
steel track
40000-50000
SJ6000B
4500
3800
2200
500
950
steel track
50000-60000
SJ8000B
5000
4300
2300
600
1000
steel track
80000-90000
SJ10000B
5500
4800
2300
600
1100
steel track
100000-110000
SJ12000B
5500
4800
2400
700
1200
steel track
120000-130000
SJ15000
6000
5300
2400
900
1400
steel track
140000-150000
The range of track undercarriage

Our undercarriage is composed of track roller、top roller、idler、sprocket、tension device rubber track or steel track etc, it is manufactured with the latest domestic technology, featuring compact structure, reliable performance, durability, convenient operation and low energy consumption. It is widely used in various drilling, mine machinery, fire-fighting robot, underwater dredging equipment ,aerial working platform, transport lifting equipment, agricultural machinery, garden machinery, special working machinery, field construction machinery, exploratory machinery, loader, static detection machinery, gadder , anchor machinery and other large, medium and small machinery.

Related Tags : rubber track undercarriage

Previous : Orchard spray equipment undercarriage Next : Mobile crusher rubber pads undercarriage