Products
Contact Us
The Contact: Tom Shen
Tel : +86-511-85081685
Phone : +86-13862448768
Address: NO. 8, FENGHUANGSHAN ROAD, PRIVATE DEVELOPMENT ZONE, ZHENJIANG, JIANGSU, CHINA
Email: manager@underpan.com
Website: www.underpan.com
Your Position: Home > Products > Morooka parts > Idler >
Morooka transport dumper MST 800 idler for rubber track undercarriage
Product description
Our company began to research and produce engineering machinery undercarriage from year of 2007, include four wheels, they are sprocket, top roller, track roller and idler.
We choose the key components of best quality from domestic manufacture of the highest level to ensure the life of our products. After the development of years, we have hundreds of varieties, the coverage from 3 tons excavator to 40 tons large machine, most products were exported. Now we have 6 professional designers and several experienced staffs, we are cultivating our own design team constantly to meet the growing request from customers on technology and services.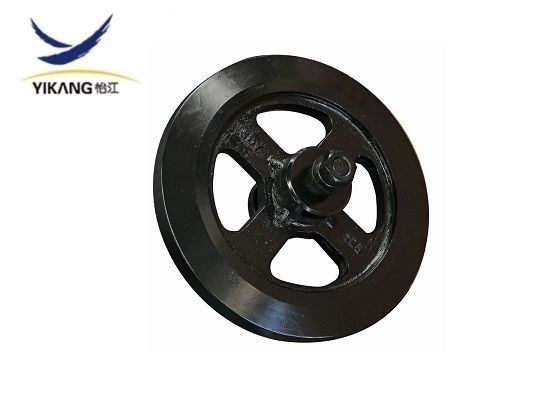 Morooka transport dumper MST 800 idler for rubber track undercarriage
My company is specialized in manufacturing MOROOKA parts of crawler dump truck, including track roller, sprocket, top roller, idler. In the process of production and sales, we won't be a competitive market with low quality and low prices, we insist on the policy of quality first and good service, create optimum value for customers is our constant pursuit.
Technical parameters
part name
Application machine model

MST300

MST 600/700

MST 800

MST 1500

MST 2200VD/2000

 

YANMAR C50R (single)

YANMAR C50R (double)

 

 

 

 

sprocket

MST800

MST1500

MST1500V/VD

MST2200VD

YANMAR C50R

 

idle

MST300

MST600

MST 800

MST1500

MST2200

YANMAR C50R

top roller

MST300

MST800

MST 1500 /2200

 

 

 
Packaging & Delivery
Packaging Details: Morooka MST800 idler roller packing wooden pallet.
Delivery Time: Shipped in 30 days after payment.
Related Tags : Morooka transport dumper MST 800 idler
Previous : Morooka MST2200 idler roller for rubber track undercarriage dumper Next : MST1500 idler roller for Morooka rubber truck undercarriage