Products
Contact Us
The Contact: Tom Shen
Tel : +86-511-85081685
Phone : +86-13862448768
Address: NO. 8, FENGHUANGSHAN ROAD, PRIVATE DEVELOPMENT ZONE, ZHENJIANG, JIANGSU, CHINA
Email: manager@underpan.com
Website: www.underpan.com
Your Position: Home > Products > Rubber track > Engineering track >
Rubber track 450x100x50MS for excavator bulldozer
Product description
1. Continuous rubber track.
2. Conventional type or interchangeable type rubber track.
3. Warranty: guarantee one year under normal use.
4. Application: mini-excavator, bulldozer, dumper, crawler loader, crawler crane, crawler carrier vehicle, agriculture machinery, paver and other special machine.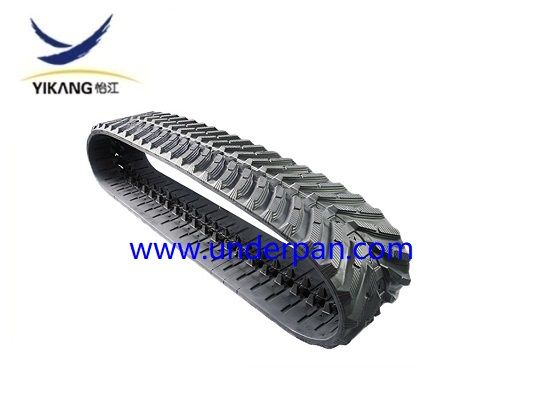 rubber track 450x100x 50MS for excavator
We devoted ourselves on the sale of rubber track for engineering machines for years. We can put forward a specialized design proposal as customers' actual request, in order to make our rubber track match with customer's undercarriage or other parts well during the operation.
During the sale of rubber track, we absorb the experience of international market continuously on the aspect of products design and related quality control. We develop our own special type of rubber track also to match the recent demand of international market.
Roller type

Standard specification

Technical parameters
| | | | | | | | | | |
| --- | --- | --- | --- | --- | --- | --- | --- | --- | --- |
| Spc.&Type | A | B | C | D | E | F | H | Pattern | Guide rail |
| 150x60x | 64 | 55 | 34 | 22 | 24 | 23 | 15 | D | A.B |
| 150x72x | 65 | 50 | 38 | 23 | 30 | 30 | 16 | E | A.B |
| 180x60x | 62 | 49 | 38 | 26 | 27 | 27 | 22 | C | A.B |
| 180x72x | 65 | 50 | 38 | 25 | 29 | 31 | 15 | A | A.B |
| K180x72x | 60 | 53 | 33 | 24 | 21 | 16 | 16 | V | B |
| 190x72x | 68 | 48 | 42 | 23 | 28 | 26 | 17 | V | A.B |
| 200x72x | 65 | 50 | 36 | 26 | 29 | 24 | 15 | V | A.B |
| K200x72x | 65 | 51 | 39 | 22 | 30 | 27 | 16 | B | B |
| 230x48x | 72 | 64 | 32 | 21 | 26 | 23 | 23 | J | C |
| 230x72x | 80 | 55 | 41 | 24 | 27 | 29 | 14 | A | A.B |
| 230x96x | 72 | 64 | 32 | 24 | 24 | 26 | 24 | G | C |
| 230x101x | 78 | 66 | 32 | 26 | 23 | 29 | 24 | W | C |
| 250x47x | 69 | 61 | 29 | 24 | 22 | 20 | 20 | J |   |
| 250x48.5x | 66 | 58 | 32 | 24 | 20 | 24 | 24(18) | O | D.E |
| 250x52.5x | 74 | 63 | 36 | 30 | 23 | 26 | 23 | O | C.E |
| 250x52.5Kx | 83 | 69 | 44 | 24 | 23.5 | 24.5 | 22 |   | D |
| 250x72x | 80 | 62 | 41 | 26 | 29 | 30 | 17 | G | A.B |
| Y260x96x | 70 | 61 | 31 | 26 | 23 | 23 | 22 | F | D |
| 260x109x | 84 | 76 | 36 | 32 | 24 | 28 | 24 | P | C.E |
| 280x72x | 78 | 66 | 43 | 26 | 28 | 23 | 20 | R | A |
| 280x80x | 70 | 53 | 37 | 22 | 28 | 27 | 26 | T | A |
| 280x90x | 74 | 56 | 40 | 30 | 30 | 24 | 35 | T | A |
| Y280x106x | 80 | 70 | 36 | 39 | 28 | 28 | 24 | I | D |
| A300x52.5x | 83 | 72 | 36 | 32 | 26 | 19 | 23 | H | C.E |
| B300x52.5x | 94 | 84 | 46 | 43 | 24 | 20 | 24 | H | C.E |
| K300x52.5x | 83 | 76 | 36 | 33 | 27 | 25 | 19 | J | D |
| 300x53x | 86 | 78 | 36 | 33 | 26 | 19 | 18 | H | D |
| 300x55x | 86 | 74 | 38 | 35 | 28 | 28 | 24 | H | C.E |
| 300x55.5x | 76 | 72 | 36 | 32 | 27 | 24 | 24 | S | D |
| N300x109x | 78 | 66 | 36 | 31 | 27 | 29 | 25 | S | C.E |
| K300x109x | 85 | 74 | 34 | 26 | 25 | 30 | 25 | J | C |
| W300x109x | 92 | 80 | 46 | 38 | 28 | 26 | 24 | O | C.E |
| 320x52.5x | 82 | 71 | 34 | 30 | 23 | 20 | 22 | S | C.E |
| 320x54x | 82 | 70 | 40 | 32 | 23 | 21 | 19 | P | C.E |
| 320x84x | 100 | 80 | 63 | 46 | 48 | 38 | 24 | K.L.R | A.B |
| 320x86x | 80 | 68 | 52 | 35 | 44 | 34 | 25 | K.L.R | D |
| 320x90x | 94 | 65 | 47 | 34 | 45 | 38 | 30 | K | B |
| 320x100x | 84 | 68 | 52 | 34 | 40 | 33 | 24 | P | A.B |
| Y320x106x | 78 | 68 | 36 | 30 | 32 | 29 | 24 | I | D |
| 350x52.5x | 88 | 78 | 49 | 41 | 27 | 24 | 22 | O | C.E |
| 350x54.5x | 92 | 83 | 47 | 40 | 24 | 22 | 23 | O | D |
| 350x56x | 88 | 78 | 49 | 39 | 26 | 16 | 24 | J | C.E |
| 350x56Rx | 88 | 80 | 48 | 40 | 25 | 16 | 24 | J | D |
| 350x75.5x | 98 | 88 | 45 | 36 | 26 | 30 | 22(16) | N | D |
| 350KBX90X | 82 | 65 | 55 | 38 | 38 | 35 | 32 | T.X | A |
| 350*90 | 72 | 55 | 44 | 26 | 35 | 35 | 32 | T.X | A |
| 350YM*90 | 80 | 54 | 43 | 25 | 38.5 | 35 | 35 | T.X | A |
| 350x109x | 88 | 79 | 45 | 41 | 27 | 24 | 23 | I | C.E |
| 370X107X | 90 | 82 | 42 | 37 | 29 | 29 | 24 | I | D |
| Y400X72.5X | 94 | 83 | 43 | 38 | 28 | 26 | 24 | O | D |
| A400X72.5X | 90 | 88 | 44 | 40 | 27 | 25 | 22 | O | E |
| B400X72.5X | 108 | 100 | 58 | 48 | 25 | 24 | 24 | O | E |
| 400*72.5KW | 112 | 102 | 53 | 46 | 23 | 23.5 | 24 | O | E |
| K400x72.5x | 87 | 76 | 46 | 40 | 29 | 29 | 24 | H | E |
| R400x72.5x | 118 | 106 | 58 | 50 | 27 | 28 | 24 | O | E |
| 400x73x | 112 | 103 | 51 | 44 | 30 | 32 | 25 | S | E |
| 400x74x | 100 | 90 | 47 | 39 | 26 | 30 | 25 | O | E |
| 400x75.5x | 98 | 88 | 42 | 37 | 27 | 27 | 24(18) | N | D |
| 400x86x | 100 | 79 | 64 | 46 | 44 | 34 | 26 |   |   |
| B400x90x | 82 | 65 | 55 | 38 | 35 | 32 | 32 | T.X | A |
| C400x90x | 71 | 55 | 43 | 22 | 34 | 27 | 32 | T.X | A |
| Y400x107x | 90 | 82 | 44 | 39 | 29 | 29 | 24 | I | D |
| K400x142x | 90 | 80 | 34 | 28 | 30 | 28 | 24 | I | C.E |
| Y400x144x | 101 | 90 | 44 | 35 | 30 | 29 | 25 | I | C.E |
| 420x84x | 69 | 50 | 48 | 38 | 37 | 32 |   | T | A |
| 425*90 | 88 | 67 | 53 | 39 | 40 | 33 | 33 | T.X | A |
| 420x100x | 100 | 84 | 64 | 46 | 51 | 36 | 30 | K | A |
| 450x71x | 110 | 97 | 52 | 41 | 30 | 26 | 28 | O | C |
| 450x73.5x | 109 | 100 | 52 | 41 | 32 | 30 | 30 | O | C |
| K450x76x | 122 | 110 | 58 | 52 | 30 | 29 | 26 | J | C |
| A450x81x | 114 | 102 | 54 | 42 | 32 | 29 | 24 | O | C |
| B450x81x | 136 | 120 | 73 | 63 | 30 | 34 | 24 | O | C |
| K450x83.5x | 115 | 101 | 56 | 44 | 25 | 24 | 30 | O | C |
| Y450x83.5x | 116 | 102 | 50 | 40 | 24 | 25 | 30 | Q | D |
| 450x84x | 102 | 81 | 65 | 44 | 47 | 33 | 28 | K.L.R | A |
| 450x86x | 104 |   |   | 46 | 47 | 35 | 28 | K.L.R | C |
| 450YMx90x | 80 | 67 | 53 | 40 | 37 | 35 | 40 | T.X | A |
| 450x90x | 84 | 66 | 52 | 38 | 43 | 42 | 19 | K | A |
| 450x100x | 102 | 80 | 64 | 46 | 51 | 47 | 38 | K.L.R | A.B |
| K450x163x | 114 | 96 | 54 | 43 | 31 | 29 | 30 | I | D |
| 485x92x | 134 | 126 | 78 | 64 | 32 | 30 |   | I | D |
| B500x90x | 82 | 67 | 53 | 39 | 37 | 27.5 | 40 | T.X | A |
| 500x90x | 100 | 78 | 62 | 46 | 50 | 37 | 30 | K | B |
| 500x92x | 132 | 118 | 64 | 58 | 28 | 29 | 26 | H | C |
| 550X90 | 82 | 68 | 53 | 39 | 37 | 27.5 | 45 | T.X | A |
| 600x100x | 112 | 84 | 64 | 45 | 60 | 52 | 38 | R | B |
| 600x150x | 165 | 125 | 105 | 62 | 70 | 63 | 55 | R | B |
| 700x100x | 112 | 90 | 70 | 53 | 74 | 60 | 35 | R | B |
| 750x150x | 170 | 128 | 92 | 62 | 65 | 45 | 39 | R | B |
| 800x150x | 143 | 94 | 75 | 62 | 54 | 40 | 39 | R | B |
Pattern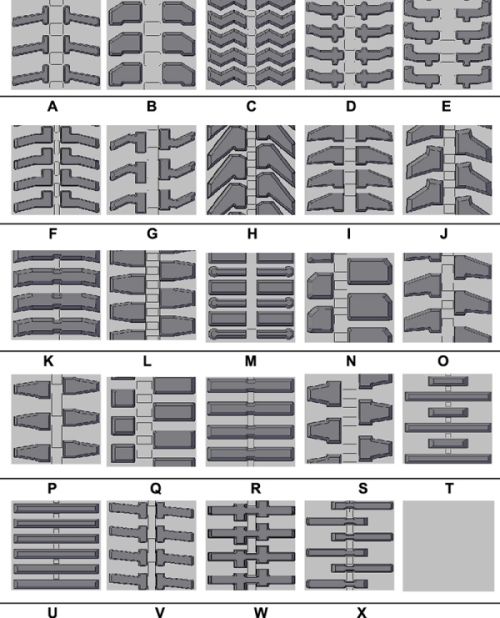 Notice

A. Check rubber track's tension before installing it.A low tension may cause a drop-off of the rubber track in operation.Generally,check the center of the track can be pressed down 10-15 cm is available.
B. Avoid quick running and turning the machine in steep edge or under construction groud.
C. Keep rubber track's surface clean.Pls wipe off immediately while it stained with oil.
D. Avoid friction between rubber track and other components of the machine,avoid damaging the rubber.
E. If the machine is unused for a long time,the rubber track should be cleaned and put it in ventilation shade.
F. The rubber track can operate normally under the temperature between -25℃~55℃.

We will

design it if you have special needs.

Packaging & Delivery



Packaging Details:rubber track 450x100x50MS for excavator packing wooden pallet.
Delivery Time: Shipped in 30 days after payment.

Related Tags : rubber track for excavator bulldozer

Previous : Rubber track 450x86x59SB for excavator Next : Rubber track B320x86x49D for skid steer loader