Products
Contact Us
The Contact: Tom Shen
Tel : +86-511-85081685
Phone : +86-13862448768
Address: NO. 8, FENGHUANGSHAN ROAD, PRIVATE DEVELOPMENT ZONE, ZHENJIANG, JIANGSU, CHINA
Email: manager@underpan.com
Website: www.underpan.com
Your Position: Home > Products > Undercarriage > rubber track undercarriage >
Costomization new rubber track undercarriage will fender
Product description
We customize every undercarriage according to your requirements and with attention to even the smallest details
We can recommend and assemble the suitable motor & drive equipment as customers' request. We can design the whole undercarriage according to special requirement, such as measurements, carrying capacity, climbing etc. which facilitate the
customers' installation successfully
。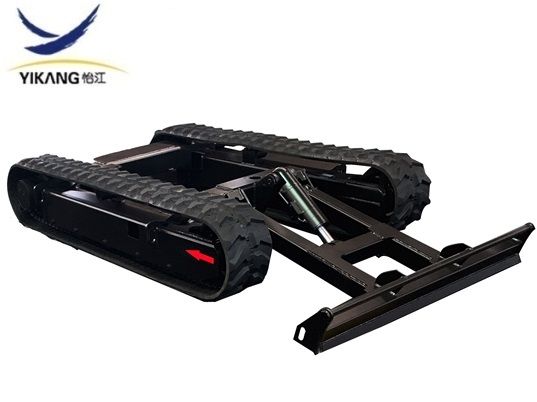 Costomization new rubber track undercarriage will fender
Standard specification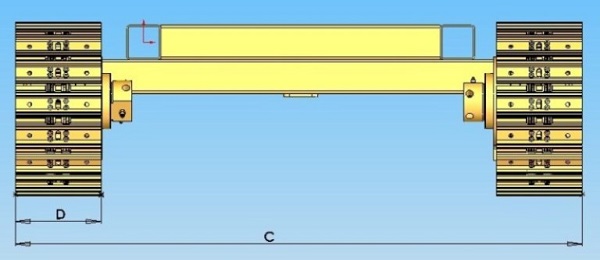 Technical parameters
Type
Parameters(mm)
Track varieties
Bearing(Kg)
A
B
C
D
E
SJ050
1200
900
900
180
300
rubber track
500
SJ080
1240
940
900
180
300
rubber track
800
SJ100
1380
1080
1000
180
300
rubber track
1000
SJ150
1550
1240
1000
200
310
rubber track
1300-1500
SJ200
1850
1470
1300
280
360
rubber track
1500-2000
SJ250
1930
1570
1300
280
410
rubber track
2000-2500
SJ300A
2030
1500
1600
300
530
rubber track
3000-4000
SJ300B
1895
1500
1700
300
527
steel track
3000-4000
SJ400A
2166
1636
1750
350
560
rubber track
4000-5000
SJ400B
1990
1600
1800
300
560
steel track
4000-5000
SJ500A
2250
1720
1800
400
560
rubber track
5000-6000
SJ500B
2118
1591
1800
350
580
steel track
5000-6000
SJ700A
2812
2282
1850
400
580
rubber track
6000-7000
SJ700B
2795
2265
1800
400
630
steel track
6000-7000
SJ800A
2880
2350
1850
400
610
rubber track
7000-8000
SJ800B
2880
2350
1850
400
620
steel track
7000-8000
SJ1000A
3802
3202
2300
450
620
rubber track
9000-10000
SJ1000B
3802
3202
2300
400
650
steel track
9000-10000
SJ1500A
4402
3802
2500
450
650
rubber track
13000-15000
SJ1500B
4402
3802
2500
450
700
steel track
13000-15000
SJ2000B
3805
2700
2500
600
800
steel track
18000-20000
SJ2500B
4139
3289
2500
600
850
steel track
22000-25000
Agricultural rubber track undercarriage:



1. Cheap cost.
2. Light weight.
3. Drive device,the market main use old tractor gear-box,the structure is old,low precision,heavy abrasion,it will have some trouble when use long time.And the ground clearance is small,two rubber tracks can't turn at the same time, and the turning radius is large.
4. Agricultural rubber track generally use 90 pitch,its weight is light and thin,easy to wear, suitable for water field, dry land, grassland, relatively wear small place.
5. Roller in it all in small shape,samll load capacity,and should be maintained often.
6. Tension device generally adopt the screw tensioning, long time use easy to rust corrosion, the tightening effect is poor, easy to strip off, no buffer, the impact on the structural parts is larger.
7. Truck frame is thin,poor impact resistance, so spare parts easy broken.
Related Tags : rubber track undercarriage
Previous : Orchard spray equipment undercarriage Next : rubber pads undercarriage